Location:Home > News > Media Reports > Construction of Shantou city group to build the eastern Chaojie economic growth pole
Construction of Shantou city group to build the eastern Chaojie economic growth pole
Source:Jieyang News Author:Reporter Lin Shenghui Date:2013-03-25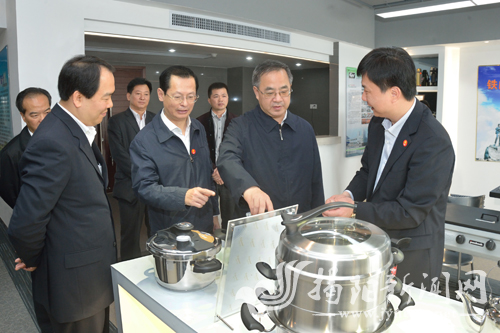 Provincial Party Secretary Hu Chunhua and other in-depth fieldwork city metals Enterprise Confederation. Yang Jibin photo
March 20 to 24, Party Secretary Hu Chunhua research in the eastern region, and listen to Shantou, Huizhou, Shanwei, Chaozhou, Jieyang City, five work report stressed the need to accelerate the construction of urban agglomerations Chaojie Shantou, Guangdong's economic growth to create pole.
Musheng with provincial leaders Hu Chunhua, Lin Shaochun such an in-depth Shantou, Chaozhou, Jieyang to inspect parks, businesses, rural areas, ports, hospitals, schools and cultural facilities, and the cadres and the masses to discuss about development.
Hu Chunhua said, Huizhou, Guangdong four cities and economic and social development in recent years has made considerable progress, cadres and the masses are full of energy, and broad development prospects, but the development of the task is still arduous. Especially the eastern four cities, to effectively enhance the sense of urgency to accelerate the development as the primary task, to maintain a reasonable high growth rate, and promote transportation and other major infrastructure construction, speed up regional central city expansion and quality, increase investment, leaving owned Societe efforts to improve the level of industrial development, and strive to achieve the per capita GDP as soon as the national average.
Hu Chunhua pointed out, Shantou, Chaozhou, Jieyang three downtown not far from the increasingly close economic ties, a strong desire to strengthen cooperation. Three cities should be based on reality, on the joint construction Chaoshan plain Shantou Chaojie urban agglomeration, creating eastern economic growth pole, making the province a new economic growth point. Properly handle the relationship between cooperation and competition, the formation of pragmatic communication and cooperation mechanism to strengthen urban and rural planning, infrastructure construction, industrial development, water resources protection and utilization of public services and other areas of cooperation, focusing on dislocation development and achieve win-win situation. Become bigger and stronger three main city, eastern regional co-radiating, out of an eastern city group building development of new ways. To give full play to history, culture, hometown of overseas Chinese, special economic zones, coastal location, developed private economy and other advantages, and strive to potential advantages into economic advantages, the early realization accelerate development, revitalization of eastern goal.
Hu Chunhua hope Huizhou momentum, adhere to the "large projects driven big development", and constantly improve the quality and efficiency of the Pearl River Delta region and strive to become the second echelon.
Hu Chunhua hope Shanwei positive westward development, grasp the Shenzhen-Shantou Special cooperation zones, active integration into the Pearl River Delta, better acceptance of Shenzhen, Huizhou radiation.
Hu Chunhua stressed that for the people to create a harmonious and stable social environment is an important duty of the Party and the government. Party committees and governments should that affect stability of the outstanding issues of governance, a clear responsibility to adhere to according to law, the initiative to resolve conflicts to solve problems, strengthen the building of grassroots organizations, and earnestly safeguard the legitimate interests of the masses.
Hu Chunhua research in Jieyang when listening to the city's urban development planning and other aspects of enterprise development, reporting, field trips Pu Ning Hongyang Wan Garden, City Metal Business Association, Guangdong wheel mold Co., JieXi Chinese Medicine Hospital, Beijing Ming tea and other places, fully affirmed the work of the city's good ideas, solid work measures required to earnestly implement the blueprint into reality. Municipal Committee, Municipal People's Congress Chen Lvping, Mayor Chen Dong, Municipal Committee, Secretary-General Liu Guangming and other accompanying activities.

Add:Floor 21, Honghe Building, Jieyang City, Guangdong Province Code:522000 Tel:4008941333 Fax:4008875666-159888